Frequently Asked Questions
Is it really dustless?
Yes it is! Please don't worry about sealing off other rooms or covering furniture in adjoining areas because we are DUSTLESS, DUST FREE & no dust. It's hard to comprehend as we've seen it before or heard the stories of terrible invasive dust but
Australian Dustless Floorsanding
won't add fine toxic sanding dust to your office, shop or home.
In what order do I get in my tradesmen? Floorsanding generally needs to be last and after all other trades so you can protect your investment. Depending on the layout of your property, we generally need to be last.
Will I have to empty out shelves and tape over cupboards? No – not anymore! Save time and hassle as well as remove your exposure to carcinogenic dust. This is the beauty of using Australian Dustless Floorsanding. Thanks to our "greener" system – our rejuvenation process won't contribute dust to your timber flooring project.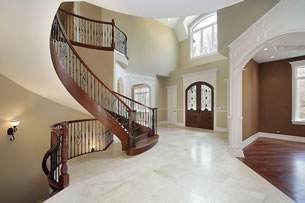 Do I have to tape over and cover up adjoining rooms?
Adjoining rooms and special furniture are completely safe as the
Australian Dutlesss Floorsanding
system removes all the dust as it goes – taking it outside through hoses before it gets a chance to settle inside your home, gallery or shop front.
Will I have to protect computers and our piano in the Library/study? No as the dust isn't allowed to escape the machines and is drawn outside away from clients, precious art works, linen, books, soft furnishings etc – chandeliers, computers, furniture and paintings are no longer under threat of being compromised by fine sanding dust.
Should I move out? How long for? Depending on the layout of your home or property. Most clients are able to access the rest of their building and with careful advice, can have a minimal amount of disruption and hopefully stay at the property during the floor polishing project. Rather than the traditional use of toxic fumes and carcinogenic dust being left unchecked to roll around the property, now sanding dust doesn't float around the building. Days of clean up are avoided and clients no longer have to ventilate their property for weeks to reduce toxic solvent fumes. Waterborne coatings and natural oil systems ensure you are back settled into your normal routine within a day or so of the project finishing.
How much dust will there be? Again we will not create any dust at your project. Our innovative dust extraction system means clients in Melbourne finally have the opportunity to experience a dust free timber flooring renovation without the chaos. The last thing we want is for Clients to be held to ransom by time consuming clean ups caused from dust after we're gone.
Pets? Pets generally don't like noisy tradesmen taking over their turf. Access to the new floor is restricted during the project as well. We feel it is best for most Pets to be kept elsewhere so they can relax until it's more comfortable for them to come home.
Fridge & food? Coating systems utilised by Australian Dustless Floorsanding ensure fumes won't soil fridge contents and affect food stuffs, products, fabric etc like polyurethane does.
What do I need to do to get ready? Australian Dustless Floorsanding requires parking in the immediate area close to your project for the truck and large trailer. All furniture needs to be removed off the work zone involved prior to works as well as all hanging pictures and mirrors etc for safety reasons. We may require sole access to the work site to ensure quality control and adequate power supply. The dust extraction units are powered independently and therefore completely self-sufficient.
What if I need more information? Please call or email Australian Dustless Floorsanding to address other concerns or questions you might have. As Australia's first truly dustless floorsanders, we are here to help and to also make the renovation process easier. It is our pleasure to assist any way we can.
REJUVENATION WITHOUT EVACUATION!